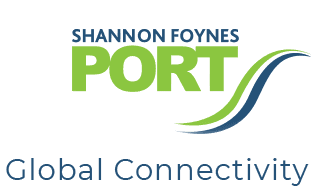 Our port estate at Foynes is earmarked for substantial expansion consistent with our Port Masterplan, Vision 2041 and the Strategic Integrated Framework Plan for the Shannon Estuary.
In order to support this growth, 180 hectares (outlined in red in the diagram) of land is formally zoned for marine related activity.
Permissible activities under this zoning includes open and covered storage together with port centric activities such as, for example, manufacturing, blending or assembly activities and distribution centres that require a port side location.
In order to ensure sufficient land and storage capacity is available at our port in Foynes for the short to medium term we recently obtained planning consent to provide 34 hectares of serviced industrial land for open and covered storage including port centric activities. This planning consent also provides for the construction of 12,000msq of warehousing with ridge heights of 15.1m. This site is located at the eastern end of the port estate as shown in the diagram.
We intend to commence construction for the provision of services to these 34 hectares shortly. Our intention is to sublet various parcel sizes to the market for port related uses.  This land is presently available and our Business Development Manager is available to take enquiries.