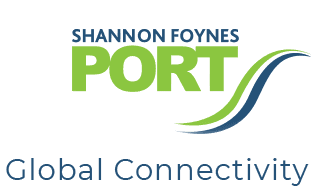 As the principal deep-water general cargo facility, Foynes caters for vessels up to 225m in length with draft of 10.5m. The port is close to all major transport arteries, with the new €430m Limerick to Foynes Road Scheme set to create a direct link between Foynes Port and the national motorway network.  Shore-side operations at Foynes are serviced by modern cranage and handling systems, backed up by state-of-the-art tugs and ancillary services.
Foynes specialises in dry, liquid and break bulk cargoes as well as special projects and heavy lifts. It has some 30,000m2 of bulk warehousing within the port campus, together with extensive liquid storage capacity. The Foynes Port estate consist of 90 hectares with a further 76 hectares zoned for future port related development.
Consistent with its Masterplan Vision 2041, an unprecedented programme of investment is underway at the Port.   Ongoing projects at Foynes Port include construction of a new 120m quay, thereby increasing existing capacity by 21%, additional new quay set down area of 12,000m2 and the development of a new 38 hectare port side storage and logistics park together with associated facilities.