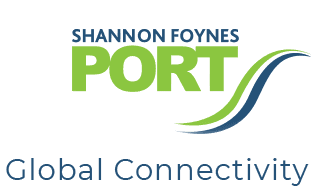 The Limerick to Foynes Railway line was authorized by an Act of Parliament on the 4th August 1853. The line was predominantly a freight line. In the 1930's it carried a mixed goods/passenger train with normally one passenger coach. New freight traffic was introduced from Silvermines Mountain in County Tipperary with baryte ore in 1966 and the Mogul company's zinc and lead concentrates in 1968.
There were up to 7 trains in each direction daily – 3 baryte, 2 mogul and 2 oil trains. The baryte traffic finished in October 1993 when the mine closed, but the coal & oil ran until November 1997.  The last revenue train ran on the line in 2000.  The last train movement on the line was the weed spray train which ran for last time on the 7 May 2002 hauled by B141 class.
SFPC supports the reinstatement and upgrade of the Limerick to Foynes rail line as outlined in its Port Masterplan Vision 2041. Indeed, it is a requirement under the EU Ten-t Guidelines that core Corridor Ports must have adequate rail and road hinterland connections in place by 2030.
The reinstatement of the 40km Limerick to Foynes rail line facilitates not only the sustainable expansion and development of the Port but reduces the carbon footprint for our country by moving substantial quantities of cargo from road to rail. It would also facilitate the development of floating wind Port infrastructure by better integrating the Port with the Atlantic floating wind resource and the hinterland supply chain.
Recognising the importance of its reinstatement, Shannon Foynes Port Company commissioned Irish Rail to undertake the following preliminary works in order to enable the reopening of the Foynes to Limerick line for freight purposes in the short to medium term.
Scoping study – completed in 2014
Preliminary Design Stage – completed 2015
Detailed Design – completed 2019
These preliminary works were funded by Shannon Foynes Port Company and co-funded by the EU's Connecting Europe facility. The reinstatement of this line is now ready to commence main reinstatement works.